Carillion Helps You Create and Automate Your Marketing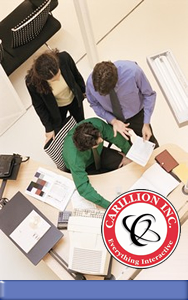 We do more than help you solve your marketing and sales promotion challenges.  We help you interact with your customers!  We offer comprehensive interactive marketing and customer relationship management strategies to enhance your business.  We use marketing research and integrated marketing tools to do the job right.  Experienced in a wide range of industries including: transportation, healthcare, legal services, financial services, food service, hospitality, travel, media, entertainment airlines, rail, government, and higher education.
Advanced Integrated Marketing Strategies

If you are focused on attracting more customers to your business talk to us. Rapidly changing media landscapes require that you use leading edge digital tools along with traditional media solutions to connect with new clients and grow your existing client base. We help you find the optimum mix of tools and help you tailor your message to your target market.  We collaborate with you to refine your message and improve your market penetration using strategic marketing planning, social media marketing, web marketing, SEO optimization, branding, market research, business development, sales promotion, database marketing, CRM, direct marketing, SWOT analysis, team training, coaching, strategic planning, retreat facilitation, web planing, eCommerce strategies, online marketing, media relations/ PR, advertising audits, creative strategy, integrated marketing, strategy, and corporate communications.
Industry Knowledge & Experience

Digital Marketing
Sales and Marketing
Branding & Positioning
Market Research: Online Qualitative and Quantitative
Strategic Web Design and Development
Lead Generation: Digital and Traditional Media
Media Planning and Buying
Pricing Analytics and Consulting
Competitive Analysis and Mystery Shopping
Public Relations
Sales Funnel Design and Management
Strategic Planning
Integrated Marketing Planning and Implementation Support
Sales KPI Development and Incentive Programs
Front Line Sales & Marketing Education & Training
Corporate Communications
Service Sector Industry Experience
Energy & Natural Resources
Financial Services
Health Care
Medical Devices
Legal Services
Hospitality (Hotels, Restaurants & Entertainment)
Marketing & Sales
Ground Transportation
Logistics
Airline Transportation
Manufacturing and Fabrication
Retail & Event Marketing
Sales Promotion